Emily and Jesse Cole are the owners of the Savannah Bananas, known as the Greatest Show in Sports. The Cole's started the organization with the goal to make baseball fun and bring families together. Inspired by the foster care community, Emily and Jesse became a licensed foster family and are now telling their story to inspire more to make a difference.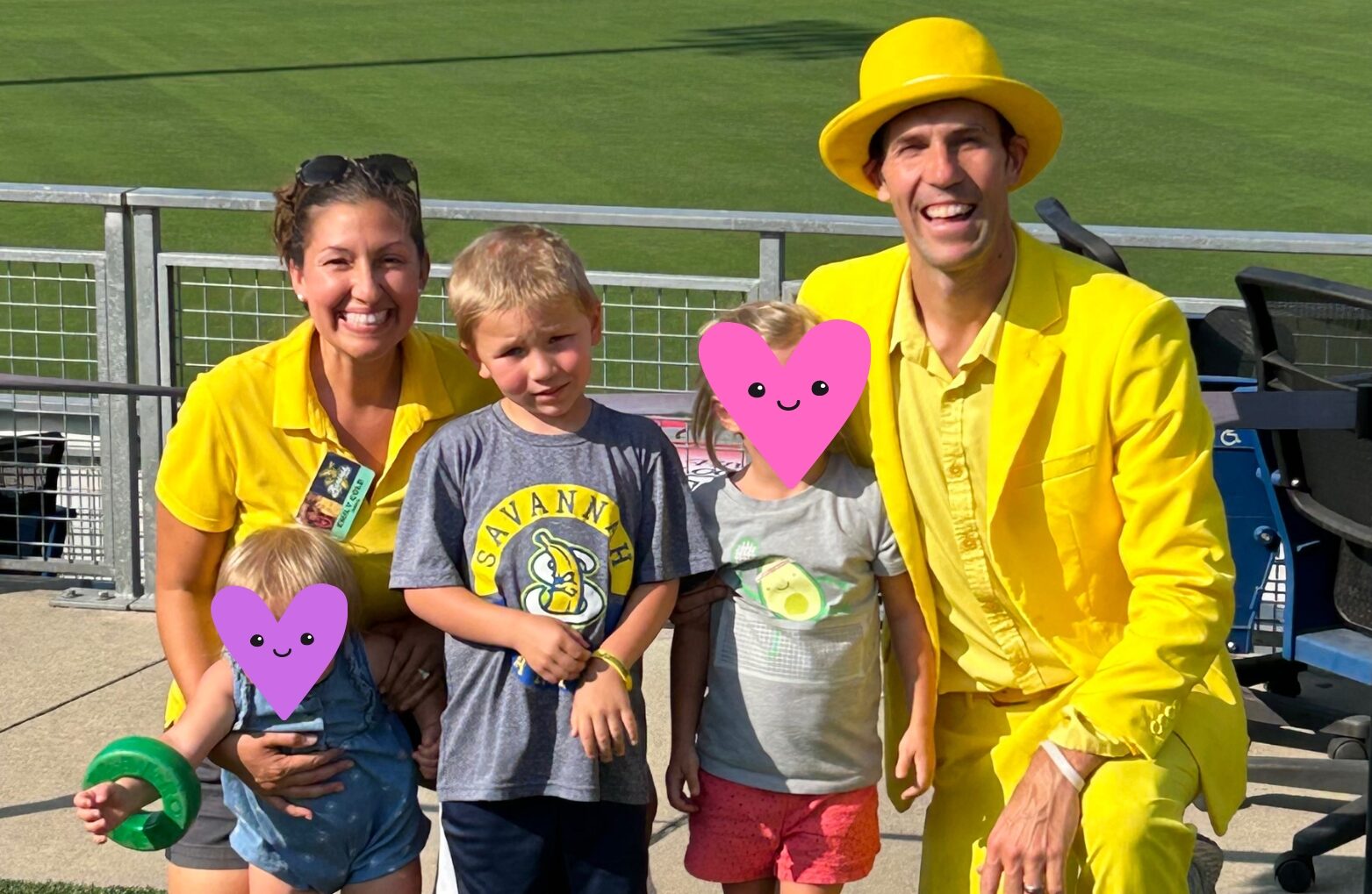 COVID CREATES A FOSTER FAMILY
It's 2020 and, like so many others, Emily and Jesse Cole are at home in lockdown with their one-year-old son, Maverick.
They had discussed foster care and adoption for years and being home, knowing so many kids were out of school and likely struggling without their teachers and mentors who keep an eye on them, spurred more conversations about actually getting involved.
Emily researched foster care and what it takes to become a foster parent. Foster care can be a huge commitment and Emily wanted to know more about what that would look like for her family's reality.
"Jesse gave me the book Everything Is Figureoutable by Marie Forleo, and of course, there's a lot of business relationship points, but when I read it all I could hear was, 'you can do this.' I thought even though it's going to be hard because we live between multiple states, we have a one-year-old, our business is growing, we've already involved in so many other things… everything is figureoutable. So I just said, We're passionate about this, let's do it."
"The longer we wait, the longer these kids will wait." Emily Cole, owner of the Savannah Bananas, said. "The kids are already there, waiting and going through a traumatic time in their life. We were never trying to grow our family permanently; our goal was to bring children into our home who needed it."
The goal of foster care is to give children a supportive and fundamental home until they are reunified with their biological family or able to be adopted. The Cole's were inspired about the reunification process because they had heard how wonderful that part of foster care can be for both the child and the family. After more consideration and research, they knew it was time to get licensed.
Since it was COVID and everything was shut down, their licensing process looked different than most. Instead of in-person training sessions, these were held online virtually. By December of 2020, the determination was finalized and the family was waiting for the paperwork from the state when they got their first placement call.
"We got our first call the day before we were officially licensed," Cole said. "It just shows how desperate they were for another foster family."
In an extremely difficult decision, the Cole's turned this placement down. Newly licensed and a barely-two-year-old at home, they were not able to take on this specific case at the time.
Cole said, I was bothered and embarrassed by this decision at first. How could we say we're signing up to help and then decline a need. But, we'd been given a lot of advice and listened to a lot of experienced foster families about this, so as much as it hurt to say no to this placement, we know it was the right decision for the child and for us. If we took on something that we weren't prepared to handle, I don't know if we would've been successful at it and that could've been more traumatic for the child to disrupt their placement."
But the phone doesn't stop ringing. There's always another need. The Cole's first placement came soon after in January 2021. They received a call for the placement of a two-year-old girl (we will refer to her as "K" in this article). She was non-verbal but Maverick was only three months older than K so they hoped the two would be able to connect and play based on their similarity in age.
DAY ONE, NIGHT ONE
"We came to pick her up from a previous foster home and there she was, waving at us from the window as we pulled up," Cole said.
She immediately connected with Maverick and the transition seemed to be going well. K and Maverick played with their toys and Emily knew that having another child in the house close in age was helpful in this circumstance. When it was time for dinner, K refused to eat. The only words she could say were 'no' and 'yuck' and she did so on repeat all night.
After an unsuccessful dinner, they moved to another difficult period – bath and bedtime – both went horribly. Even Maverick stepped in to show K books and console her, but nothing worked.
"For the first night, she slept on Jesse in a chair for a while because she wouldn't leave his arms." Cole said.
"It was like this for a couple of weeks, transferring her back and forth during the night where we would all nap. We slowly transitioned her to a crib. The transition looked like a chair, to a chair in her bedroom, to the floor next to the crib, to K in the crib with Jesse or I on the floor holding her hand, and, a few weeks later, to her running to her bedroom saying 'night, night' and sleeping on her own."
Eventually, K adjusted and settled into her new home but it was no "walk-off in the park."
At the beginning of a placement there are a substantial amount of appointments. The first couple of weeks were not only sleep deprived but filled with appointments for doctors, therapists, and agencies to get proper signatures and documentation. When K came into care, she had never been to either the doctors or dentist office. It is up to the foster family to take them to these appointments and get checked out or caught up on what they need.
Cole said, "The first few weeks were a blur. Unlike having a child biologically, when you foster or adopt, you usually don't have much notice. Our lives changed in an instant when we got the call to go pick up K that afternoon. It was a whirlwind of shifting from normal lifestyle and routine to being with this person who is now fully dependent on you to care for them and advocate for them. We plunged into a world of appointments and court and doing everything we could to help this sweet girl. She will always be special as she was our first placement and is an incredible little girl who has taught us so much."
FROM DINNER TO THE HOSPITAL
In October of 2021, after almost a year with K, their new routine was established. The baseball season had just ended and their agency knew the Coles were back in town without much travel for their off-season. Emily and Jesse were on their way out for a date night when another call came for a placement.
This time, the placement was for a newborn baby who tested positive for illegal substances in her system but was ready to be discharged from the NICU. She was going to reunify with family soon so this was a short term placement. Instead of going to dinner, the Cole's drove straight to the hospital. At the hospital, they were assigned to watch 4 hours of videos and education materials pertaining to how to care for a detoxing newborn baby. 
"I don't think triple the amount of hours could prepare you for this topic, but we knew we had been educated enough to take her home," Cole said. 
That night the Cole's brought home their second placement and their family roster now had two three-year-olds and a 6 day old. 
"Watching a newborn detox is horrible." Cole said. "We learned about a lot of things we'd never know before. It was important for her to be swaddled a certain way, fed certain formula and had specific diaper rash cream used on her.  Fortunately they were given the tools to help her overcome the substances in her body. 
At the writing of this article in the summer of 2023, both girls are still placed with the Cole Family.
IT TAKES A VILLAGE
According to the Department of Health and Human Services, estimates show that between 30 and 50 percent of families quit foster parenting within the first year. These families often say their reason for leaving is that they don't feel supported. 
"The number one piece of advice we tell people is to have a community and build a village before starting," Cole said. "After K came to us, we had clothes dropped off from friends and family that could cover her for the next year. Every size and season were covered for her. When Addie joined us, a meal train was set up and we had food dropped off literally every other day for her first two months of being with us.
Our friends, family and neighbors wrapped their arms around us and took care of our family. We could not have done this without them."
Foster care is a taboo topic. Not many people talk about what it is and, therefore, not many people know how they can help the community. Emily wants to be an advocate for the foster care community and share her family's story to encourage others to get involved.
"I try to share and advocate with everyone I can because it's not something that is talked about every day in our society." Cole said. "Whether we have more placements in our home or through our new non-profit, Bananas Foster, Jesse and I are committed to supporting this cause for the rest of our lives."
Bananas Foster is an official 501(c)(3) non-profit dedicated to celebrating the foster care community while educating and inspiring others to get involved. 
"Our organization is committed to helping the world of foster care. Advocating for everyone involved: the biological family, foster children-youth-teens, foster caregivers, social workers, volunteers, and court personnel, and everyone else who is already working in this space. We want to celebrate everyone involved in this community, those who make this world a better place."